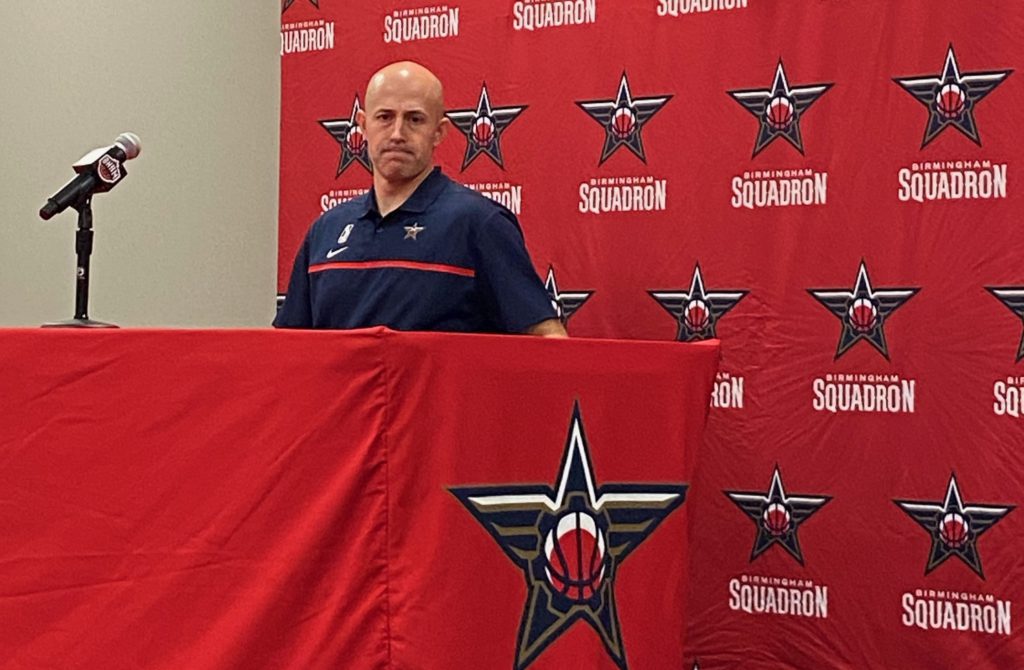 The last official professional basketball game played by a Birmingham-based NBA affiliate came on March 25, 1992, when the Birmingham Bandits lost to the Quad City Thunder in the Continental Basketball Association playoffs. That team, linked with the Atlanta Hawks and San Antonio Spurs, was one-and-done – finishing dead last in the CBA in attendance.
Nearly 30 years later, a bolder and better Birmingham is back in the pro basketball business, and the NBA G League team looks to hold court much longer than a single season.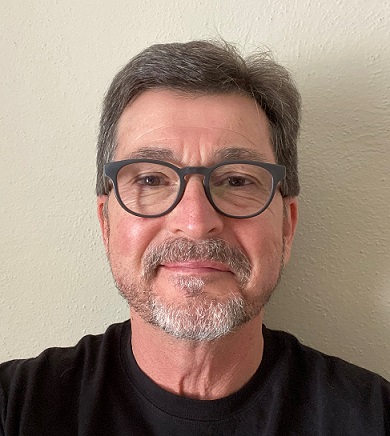 The Birmingham Squadron has joined the ranks of the 29-team league (plus the NBA G League Ignite, the club reserved for elite Draft prospects) and will play its home opener at the renovated Legacy Arena on December 5 against the Capitanes de Ciudad de México, aka the Mexico City Capitanes. The regular season lid-lifter is Friday at Greensboro (Birmingham's first six games are on the road).
The Squadron's on-court debut actually came on Saturday in College Park, Georgia, in a 95-90 exhibition victory over the College Park Skyhawks.
Squadron head coach Ryan Pannone and various players met with the media earlier today at Protective Stadium to officially talk up the newest member of Birmingham's sports scene.
"We met with some of the community leaders in August and I thought there would be about 50 people there, and there were 150 people," Pannone said. "I was blown away at how excited people were about having a team here. That's the nature of the G League. At the end of the day it's a minor league sport, and when you're in a bigger city it's just not that important to a lot of people. What you want as a player is to feel like it's important, and I was blown away by the support."
The team formerly known as the Erie BayHawks relocated from Pennsylvania, where they were well supported. Pannone hopes the team can win over new fans in the Magic City.
"I spent two years in Erie and the people in the town and the fans loved the team," he said. "They love their minor league sports. In one way it's sad to move away from there but obviously it's exciting to move to Birmingham. Legacy Arena is amazing. It's the top arena in the G League."
The circuit is the NBA's developmental league so it's obviously quality stuff; 41 percent of players on this season's opening night NBA rosters (205 total) had G league experience, and every NBA team started the 2021-22 campaign with at least three former G leaguers. But there's also just something that seems fun about it from a fan standpoint, everything from rule experimentation to a nice, tight 36-game regular season schedule plus a 14-game tournament called the Showcase Cup.
"The fans are truly dialed in and making a lot of noise about the Birmingham Squadron coming into the city," said guard Joe Young, who played three years with the Indiana Pacers and was one of the top players in China last season with the Beijing Royal Fighters. "I feel like we have a great new beginning. I've been through a lot of training camp and this is one of the best I've been through, from the high intensity and how we've become a team. There's a lot of unity and as early as the season is, it's like we've been knowing each other for years."
The arrival of the New Orleans Pelicans affiliate is the city's next and best chance to prove it can support pro hoops. The 1991-92 CBA team that called State Fair Arena home made the playoffs despite a losing record, but fans had lost interest in them long before the postseason. Birmingham averaged 1,058 fans per game during the regular season, last in the 17-team league. Its three home postseason games in March drew crowds of 405, 825, and 2,274.
By May the team was gone, moved to Rochester, Minnesota, and rebranded the Renegades.
The modern era has seen Birmingham host several semi-pro teams, but like most semi-pro teams they're here today, gone tomorrow and quickly forgotten.
But the Pelicans' farm club has a chance to be memorable right out of the gate, which could go a long way toward a much different fate than that of the Bandits.
The roster features former Auburn star Jared Harper and Alabama standout John Petty Jr. – both guards – and there are currently 15 players in training camp hoping to survive Thursday's cut day.
"I think anything you do, it's easier with higher character people and one thing I've learned about the G league is it's essentially the junior college of professional basketball," Pannone explained. "It's not a place where a player wants to be for the rest of their career. It's hopefully a stopping ground in terms of improving their career. When you get high character guys, it's not hard. When you get guys like Joe Young, Zylan Cheatham (who has a career G League average of 14.5 points and 10.7 rebounds per game from the forward spot), Jared Harper … those are really high character guys that want to be here and understand this a necessity to get where they want to go. Joe Young has turned down millions playing overseas to be here. His engagement and humbleness and excitedness to be here has been amazing. He's got the most NBA experience on our team and he's been a great leader. He's imparting knowledge to the other players."
Pannone said regardless of who's on the court when the Squadron meets the Greensboro Swarm on Friday at the Greensboro Coliseum, they'll be defined by "unselfishness and effort."
"It's what we talk to the players about," Pannone said. "The game is full of mistakes. The coaches and players don't want mistakes, but it's an imperfect game. You're gonna make mistakes but when you do, make them with unselfishness and effort. I want execution to be great and to execute our game plan, but if we play hard and play the right way, that's what we want the identity of our team to be."
Harper is confident fans will like what they see.
"We play great as a collective," he said. "Nobody's worried about stats or whatever – we just want to win."
And with the Squadron coming in right as the Uptown entertainment district starts to take shape, the time seems right for Birmingham and pro basketball to be a winning combination.