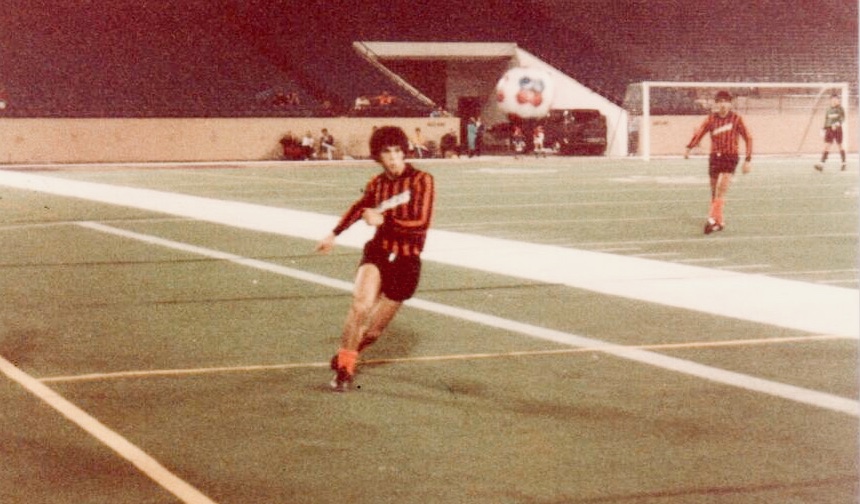 The original North American Soccer League had a 17-season run between 1968 and 1984.
Major League Soccer kicked off in 1996 and is in its 25th year of operation.
But if you're looking for longevity, no United States pro circuit to date can top the American Soccer League, which opened play in 1933 and closed up shop in 1983.
When it began, the organization showcasing what United States newspapers called "soccer football" featured clubs based in the Northeast megalopolis. The 17 founding members included four hailing from New York City, two from Kearny, New Jersey, and a pair in Fall River, Massachusetts.
During the national soccer boom of the 1970s it expanded westward to locales such as Los Angeles, Las Vegas, Sacramento and Oakland.
By the time it ended, however, the ASL was down to six franchises – the Carolina Lightnin', Dallas Americans, Detroit Express, Jacksonville Tea Men, Oklahoma City Slickers and Pennsylvania Stoners.
Every team has a story, of course, but our story will focus on the Express because Mike Getman is quite familiar with the plot.
Getman is best known as a highly successful college coach, winning 280 games over 27 seasons at UAB and leading the Blazers to eight NCAA Tournament appearances – including an Elite Eight and Sweet 16 showing.
Before that he coached at Harvard, guiding the Crimson to the Final Four in 1987 and totaling 42 victories over five seasons.
Yet he was an accomplished student before pivoting to the role of teacher, and his days as a defender on the Indiana University soccer team got the attention of pro scouts.
"As players we didn't know much about the process," said Getman, who is now the director of coaching for Hoover-Vestavia Soccer Club. "The NASL held a draft and the ASL did not. About half of the graduating players from IU got drafted each year, so that's what most of us were focused on. Many players went to invitational tryouts if they weren't drafted. Since our team had played in the national championship game twice during my years there, we were all pretty confident we would at least be seen."
One of five seniors on the Hoosiers' 1981 squad, Getman was hoping to be drafted by the NASL. Turns out, he was the only one who wasn't.
That disappointment didn't last.
"I was one of the two that eventually signed and played professionally," he said. "The other was Armando Betancourt, who played in the World Cup as well as playing in La Liga and in France."
Although the ASL played in the shadow of the NASL, it was still professional soccer – and a huge adjustment for Getman.
"My first tryout was is in Detroit in early December," Getman remembers. "It was wet and cold, and it was really hard to play good soccer. Even though the coaches told me I did well and they would get back in touch, I left feeling dejected. It took a few months, but they did get back in touch and invited me to preseason training in February.
"Training camp was a whole new level. I was one of only two rookies and the rest were very experienced veterans. They played so quickly and never made any mistakes. In college, if I marked a forward within a few yards, that was considered tight, and I rarely got beat. In Detroit, if I wasn't wearing his shirt, I wasn't close enough. The skill level was so high. The quickness of thought and of play was beyond anything I had seen. It took a few months before I felt I had risen to that level."
Unlike some of the ASL clubs, Detroit had a solid financial foundation. Getman didn't get paid NASL-type money, but he was able to earn a living.
"There was a big gap between the well-paid players and the rest of us," he said. "The Express paid better than most. We drew good crowds, were well-funded, and no one had any other job. We didn't get rich, but we were paid enough to cover our bills and to chase our dreams."
Getman's championship dreams were realized in his first season. Not only was he named the club's rookie of the year, but the Express claimed the ASL title, defeating Oklahoma City in a best-of-3 title series.
The deciding game was played in the Silverdome on September 22, 1982, with the Express winning 4-1 in front of 33,000 customers.
Getman says the talent level of the ASL was often underestimated.
"The NASL had Pelé, (Franz) Beckenbauer, (Georgia) Chinaglia, and (Johan) Cruyff, but most of these players had retired or were leaving as I came into the pro game," he explained. "Detroit had been in the NASL (the original Express franchise relocated to Washington, D.C., and became the Diplomats) then moved to the ASL to reduce expenses.  Our league didn't have as many 'stars' but there were a lot of great players.
"The Express had Billy Boljevic (Yugoslavia international and 1981 ASL MVP), Brian Tinnion (English First Division, ASL MVP in 1982 and player-coach of the Express) and Andy Chapman (English First Division). All three were top class forwards that had played at the highest level. I learned so much from each of them. We played against Phil Parkes (300 games for Wolverhampton in England), Jeff Bourne (England), Paul Child (England), Wolfgang Rausch (257 Bundesliga appearances), and more. These top level pros taught the rest of us what it meant to be a pro."
Unfortunately, Getman entered American pro soccer just as the popularity it gained in the 1970s was fading.
The ASL folded following the 1983 season and the NASL – which once had 24 franchises – was down to nine in 1984 and never made it to a 1985 campaign.
"Everyone knew that soccer in general was having troubles at that time," Getman said. "Both leagues were contracting and we were always hearing stories of other teams not meeting their payroll. In 1983 I was released halfway through the season because the Express had to cut payroll. Everyone knew that trouble was brewing even if we didn't want to believe the whole league would fold."
Getman's memories of his time in the pay-for-play ranks are more good than bad, though.
"Playing in the (ASL) championship game in 1982 was the biggest moment," Getman said. "I played 90 minutes as a rookie and walked off the field as a champion … it doesn't get much better than that.  And our home field was the Silverdome, the same field and facilities as the Detroit Lions of the NFL.
"Every day was like a dream come true for a young kid from small town Indiana."