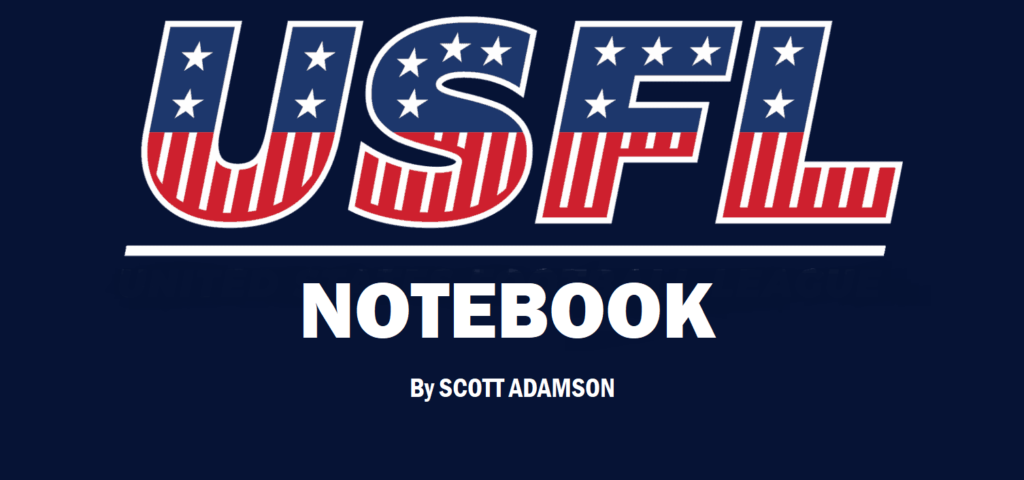 Notes, quotes and more from the New Orleans Breakers' 45-31 victory over the Birmingham Stallions Saturday at Protective Stadium …
HOW THEY SCORED
Deon Cain took the opening kickoff back for a touchdown, racing 82-yards to paydirt. Brandon Aubrey kicked the extra point, and just like that the Stallions were up 7-0 at 14:49 of the first quarter.
New Orleans answered back quickly, with MacLeod Bethel-Thompson capping off a five play, 53-yard drive with a 40-yard TD pass to Lee Morris.
Matt Coghlin kicked true, tying the game at 7-7 at 12:17 of the first.
Back came the Stallions.
With Alex McGough throwing from the pocket and on the run, he helped move Birmingham inside the 10. The six play, 54-yard march stalled at the seven, however, but Aubrey's 25-yard field goal at 8:48 of the frame put the home team back on top, 10-7.
A mixture of Bethel-Thompson passes and Wes Hills runs got New Orleans on the move after the kickoff, and Hills scooted across the goal line at 4:55 for his team's second TD at 4:55 of the first. It capped off a seven play, 65-yard drive and the extra point made it 14-10, Breakers.
After a McGough pass was picked off by Jerod Fernandez in the second quarter, New Orleans took over at the Birmingham 25.
However, the Breakers got only six yards on three snaps, and settled for Coghlin's 37-yard field goal at 7:52 to up their advantage to 17-10.
The Stallions "D" came up with an INT of their own – courtesy of Donnie Lewis II – and the offense took full advantage of the miscue.
Scrimmaging from the enemy 25, McGough hit Austin Watkins on a 24-yard gainer on first down. Three plays later CJ Marable bulled his way across the stripe for a one-yard TD 3:39 before halftime.
The kick knotted things up at 17-all.
It didn't stay tied for long.
McLeod hit Dee Anderson on 42-yard jump ball on the first play of a four play, 75-yard scoring junket, and closed the deal with a 19-yard touchdown aerial to Anderson at 1:29 of the second.
The extra point was good, and the Breakers led, 24-17.
But McGough was up to the challenge, hitting three different receivers on a seven play, 66-yard march, and finishing with a 19-yard TD pass to Jace Sternberger.
The kick made it 24-24 at :31 of the second stanza, and that's how the half ended.
New Orleans took the opening drive of the third quarter and traveled 54 yards in seven snaps. The big play came on a first-and-10 call from the Birmingham 34, with Bethel-Thompson finding Morris on a pitch-and-catch that saw Morris drag a defender into the end zone.
The PAT changed the score to 31-24 at 10:57 of the quarter.
With time winding down in the stanza, New Orleans took control of the game, moving ahead 38-24 thanks to an eight play, 75-yard drive.
The Breakers did an excellent job mixing the run and pass, and Hills got the TD on a one-yard dive with :40 remaining in the quarter.
The kick made it a 38-24 game, and the Stallions were in trouble.
McGough did his best to get his team out of it on the next series, engineering a six play, 70-yard march.
His most impressive play came following a sack when he made a great scramble and hit Davion Davis on a 49-yard toss that put the ball at the 11.
Two plays later he found Davis again for a six-yard touchdown, and the PAT cut the New Orleans lead to 38-31 with 12:32 to play.
But the Breakers scored again with 4:56 to go, with Hills capping off a 14 play, 65-yard drive with another one-yard run.
The extra point gave New Orleans a 45-31 lead, and that proved to be the final score.
The Breakers improve to 3-0 and move to the top of the South Division, while the Stallions fall to 2-1.
It was Birmingham's second defeat since the league began play in 2022 and first since a 17-15 setback to the Houston Gamblers on June 11 of last year.
The loss snapped Birmingham's five-game winning streak.
BREAKERS COACH JOHN DEFILIPPO SAID …
"Great team effort today. Huge credit to our football team … 27 first downs, 14 rushing the football, 200 yards rushing, 283 passing, we controlled the ball for nearly 37 minutes, we were 11-of-13 on third down. Defensively, we limited them to 14 first downs and 46 yards rushing. I thought it was a total team effort."
STALLIONS COACH SKIP HOLTZ SAID …
"I told the team you wear that crown for a while and if you start believing it, it's gonna eat you up. I thought they outplayed us, outcoached us … like I said last week, sometimes you're the windshield and sometimes you're the bug, and today we're the bug. They lined up and beat us."
STANDOUT STATS
It was quite a day for Hills, who amassed 191 yards on 34 carries and scored three touchdowns. He averaged 5.6 yards per carry with his longest run at 28 yards.
"The guys are doing a great job up front, man," Hills said. "They're blowing open holes and they make me look good. I've got the easy part of the job."
Bethel-Thompson continued to shine, hitting 20 or 28 passes for 283 yards, three touchdowns and a pick.
Three different New Orleans receivers scored, and Jonathan Adams led the way with six catches for 75 yards and a TD.
For the Stallions it was Alex McGough performing very well for the second consecutive game. He was 17-26-1 passing for 238 yards and two touchdowns.
Davis led the receiving corps with 123 yards on five catches and a score, but didn't seem too interested in his stats.
"Honestly, I flush it," he said. "We didn't get the win today. It's a team thing and the stats don't matter to me. I can't do it without Coach, without any offensive or defensive player, so I just flush it and get ourselves ready for next week."
Tyree Robinson and Nate Holley were in on 10 tackles each in a losing effort.
TODAY IN HISTORY
On, April 29, 1984, the original Stallions defeated the Denver Gold, 31-14, in front of 35,262 fans at Mile High Stadium. The victory improved Birmingham's record to 9-1 in a USFL clash that saw running back Joe Cribbs rush for 110 yards and catch a 50-yard TD pass from quarterback Cliff Stoudt.
Stoudt finished with 231 passing yards and scrambled for 46 more.
On April 29, 1991, the Birmingham Fire of the World League of American Football defeated the San Antonio Riders, 16-12, before 8,114 fans at Legion Field in a nationally televised Monday night game played in a driving rain storm.
The Fire scored all of its points in a three and half minute stretch of the second quarter, getting a pair of touchdown connections from Brent Pease to Steve Avery as well as a safety.
The Riders were coached by current New Jersey Generals boss Mike Riley.
NEXT UP
The Stallions play their first-ever regular season game away from Protective Stadium next Sunday when they meet the Pittsburgh Maulers at 5:30 p.m. CDT at Tom Benson Hall of Fame Stadium in Canton, Ohio.
The game will be televised on FS1.
Birmingham's previous trip to Canton last season resulted in a playoff victory over New Orleans and a championship game conquest of the Philadelphia Stars.
The Breakers will also be in Canton, facing the New Jersey Generals on Sunday at 2 p.m. NBC/Peacock will provide coverage.