I think it's safe to say that Mary and I have fully adjusted to quarantine life.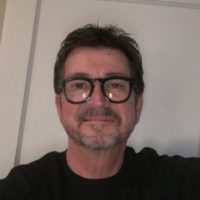 While millions of our fellow Americans seem content to pretend COVID-19 is no big deal, we're erring on the side of science, following recommendations from immunologists, and using common sense. This means we'll stay home as much as we can – at least until our sentient ape overlords take control of the planet and give us the all-clear signal.
When we do have to go out, we wear masks and stay as far away from people as possible. But in order to steer clear of harm's way we buy up a bunch of food during our trips and try to make it last. This has been a learning experience for me because I'm ashamed to admit I used to be pretty wasteful when it comes to grub.
Take loaves of bread, for example. As you know, they come with "end pieces" or "heels." In the past, I considered end pieces the children of a lesser flour god and never thought about eating them. Not only do they look vastly different from the other pieces of bread, but they also get abused every time you open the package. Since they serve as the first line of defense before you get to the cool-looking slices, the heels get touched and nicked and quickly start to look like Leatherface from "The Texas Chainsaw Massacre."
When I would get down to the two end pieces, I'd thoughtlessly put them in the garbage can. (One time I allegedly threw them at our neighbor across the street, but my lawyer has advised me not to comment on that situation until we find out if the CCTV footage is admissible in court).
Well friends, those days are over. Now, the heels of bread are honored members of our diet, serving as wonderful vessels for spreads such as peanut butter.
Speaking of which …
We go through a nutload of peanut butter, and did so even before the pandemic. Give me a peanut butter and fig preserve sandwich (possibly served between end pieces) and I feel like I'm eating like Queen Elizabeth – providing Queen Elizabeth eats peanut butter and fig preserve sandwiches.
There was a time, however, when I would often toss the jar of PB away while it still had stuff inside. It was easier to simply open a new jar instead of scrounging for remnants.
I shouldn't have done that.
Nowadays I scrape and scratch and dig for every last bite of butter – right down to going full Winnie the Pooh and sticking my nose and tongue in the jar.
(The next time I'm faced with that situation I'm going to put on a red shirt and take off my pants to get the full Pooh experience).
We're also big into fruit bowls – not the container itself but bowls filled with actual, edible fruit. Mary will dice up cantaloupe and pineapple and mix the pieces in with blueberries and that makes for a nice snack, especially during the summer months. Thing is, after a couple of days the cantaloupe gets bored and turns translucent.
There's nothing really wrong with it – it just loses some of its flavor and is a tad off-putting from a visual standpoint. In the pre-COVID era such chunks would be chunked, but now even the see-through pieces of cantaloupe get gobbled.
And finally, there's the potato chip issue.
A staple of my diet since I was a child, I used to take great pleasure in opening a bag and carefully pulling out a large, unbroken crisp. None were ever completely round and often came in interesting shapes. I remember one back in 2014 that looked like former Soviet Union President Mikhail Gorbachev's head, although I sometimes wonder why I'd remember the shape of Gorbachev's head 23 years after he left office.
Anyway, I would eat all of the whole chips before finally consenting to nosh on the half chips, but once I got down to the quarter chips, I'd throw the bag away.
Not anymore.
I now devour every last piece of chip dust to the point that – when I'm done – there is nothing remaining in the bag but the bag itself.
One day – maybe five, 10 years down the road – the coronavirus crisis will hopefully pass, but I'm confident the lessons learned from quarantine will stick with me.
Going forward I'll continue to respect bread heels, enjoy peanut butter to the last drop, and leave no chip behind.
Oh, and I'll probably still stay away from most of you people. It's nothing personal – I just don't want to have to share what's left of my peanut butter.