The other day I was having a nice conversation with our youngest cat, Bane, while we sat on the steps leading up to the upstairs bedroom. For some reason, this has become "our" spot – a quiet place reserved for us and us alone.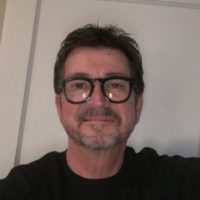 "Who is my pretty boy?" I asked as Bane purred loudly while rubbing his head against my hand. "You're my pretty boy! You're my big, beautiful boy and daddy loves you very much!"
Now for those of you who aren't "animal people" such an exchange sounds insane, but it's really pretty common for critter folk. It's basically just a version of baby talk applied to animals.
Certainly, I don't expect Bane to talk back.
And I realize I'm not his biological daddy. That would be disturbing and likely invite comparisons to The Island of Dr. Moreau films – both the bad one from 1977 with Burt Lancaster and the worse one with Marlon Brando that was released in 1996.
Anyway, the point is that Bane is part of my family, and this is how we communicate. But ours is a multiple animal household – two dogs and two cats. And just as humans engage with other humans in different ways, my dealings with our animals varies from one to another.
Charlie is our senior dog, and quite possibly the sweetest creature to ever sniff the earth. I've never heard him say a bad word about anyone. Come to think of it I've never heard him speak at all but if I did, he would speak well of others.
He likes to relax between 23 and a 23 and a half hours per day and enjoys sitting next to me with his chin resting on my knee. I'll scratch him behind the ears and pat him on the butt occasionally, and our conversations are simple and brief.
"You're a good boy, Charlie," I'll say. "Daddy loves you."
And he'll look and me and say nothing because – you know – he's a dog. Yet, he is convinced I'm sincere and his gaze tells me he feels the same way.
Our oldest cat, Thor, is six, and we had him three years before we brought Bane home from the local shelter. He's a sweet little guy and likes to crawl up on my lap and lay his head and left paw on my chest every morning while I'm still in bed. His is a head that demands to be kissed, so I kiss it while saying, "I love my little T-Bone."
(T-Bone is his nickname … I don't love actual T-bones because I'm a vegetarian).
Unfortunately, Thor is a nervous wreck and always has been. I can sneeze or burp and he'll frantically leap from my lap and haul ass to the porch. Hours will go by before you see him again, and when you do he is more often than not cowering in a corner, biting his nails and occasionally smoking a cigarette.
The poor fellow shakes like Luther Heggs in The Ghost and Mr. Chicken when he's nervous.
Then there's Steve, the Chihuahua.
Most people think Chihuahuas are cute, what with their wiggly butts and bulbous eyes.
But you know who else was cute?
Damien from "The Omen."
He was just a precious little child right up until his nanny hung herself at the behest of a hellhound – and it was discovered the tyke had the number of the beast on his head.
He wasn't so cute then, was he?
Such is the case with Steve. Without warning he'll show signs of demonic possession, complete with levitation, cursing and projectile vomiting. I don't have it on video, but I've seen his head spin completely around on several occasions.
He launches unprovoked attacks on the other animals, lunges at my hand and bites my fingers every chance he gets, and our conversations mainly consist of me yelling, "Dammit, Steve!" "Stop it, Steve!" and "Dammit, Steve, stop it!"
But you know what?
I dearly love him, just as I dearly love Bane, Charlie and Thor. I'm still gonna rub his belly and kiss him on the noggin because I'm his daddy (though not in the biological sense, which I established earlier).
Oh sure, I'll burn sage in the house from time to time and I've found an exorcist on Craigslist, but Steve's an important part of the family.
Bottom line is I love all the furry ones the same even if I have to treat them all differently. That might seem odd to people who don't live with animals, but I'm confident those of you who do understand this perfectly.
In parting, my only bit of advice is that if you ever decide to rescue a Chihuahua, you don't need to bring a nanny into the picture.
It might end very, very badly.